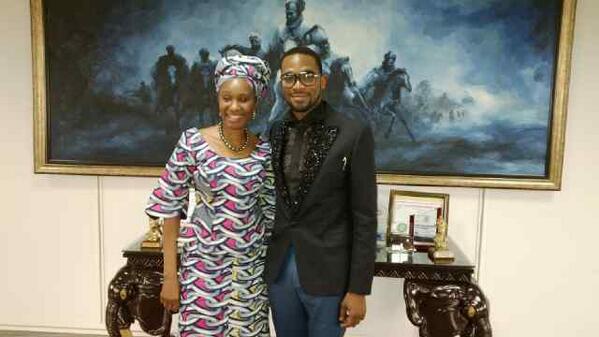 Ok so a quick browse through of Celeb Twitter Handles and I see @iamdbanj's hndle say something about Bank of Industry huh?? Bank of Industry ati Dbanj?? Conne? abi ori eyin Bank of Industry gan o pe ni??
Then I make google my friend by researching Bank of Industry again Not that I have forgotten My Banking and Finance ohhhh ehen hen
"The Bank of Industry Limited (BOI) is Nigeria's oldest, largest and most successful development financing institution. It was reconstructed in 2001 out of the Nigerian Industrial Development Bank (NIDB) Limited, which was incorporated in 1964. The bank took off in 1964 with an authorized share capital of 2 million (GBP).
Following a successful institutional, operational and financial restructuring programme embarked upon in 2002,
the bank has transformed into an efficient, focused and profitable institution
that is well placed to effectively carry out its primary mandate of providing long term financing to the industrial sector of the Nigerian economy" (Thanks to Google)
I have questions and thoughts would you help me find Answers?? see them below..
Has Dbanj contributed to the Banking or Industrial Sector?

Is he an ardent Investor with Interests in these areas?

Is his Music going to enhance development of Industries development or even entreprenuership?

Had Dbanj ever had interest in the progress and affairs of this sector or the organisation at all?

What does Dbanj even know about Industry or Banking at all?

Is Dbanj Going to make their Processes less bureaucratic and help investors get loans faster?

Is Dbanj going to make their website more updated and load faster?

Would Dbanj be giving advise to entrepreneurs or guiding them on their Ventures?

Will Dbanj also wear Ankara like the MD does to show that he supports Local Industries?

What is the rationale for Dbanj being an ambassador or the organisation even needing one at all??Is this going to "ACTUALLY" aid the organisation positively or just another avenue to waste some good money?? Or the Organisation is just Tilting towards entertainment or Investment in Entertainment Like most corporate bodies are doing??
Who am I to ask you say?? or why am I even asking yea?? Well well well... its just Like Adele or Rita Ora Becoming Ambassadors for BANK of England abi?? Yes its just like that...(Insert Sarcastic)